If you're stuck in a sea of red on your morning commute this story may surprise you. A new QuoteWizard survey of Florida drivers shows those in Jacksonville, Tallahassee and Clearwater are much worse than those in South Florida when it comes to accidents, speeding tickets, DUI's and moving violations. Spokesman Adam Johnson says in South Florida, drivers in Pembroke Pines, Miami Beach, Lauderhill and Weston fare the best. While those in Homestead, Miramar, Kendall and Plantation did the worst.
Posted on:July 9, 2019byAdam Johnson
FacebookTwitterEmail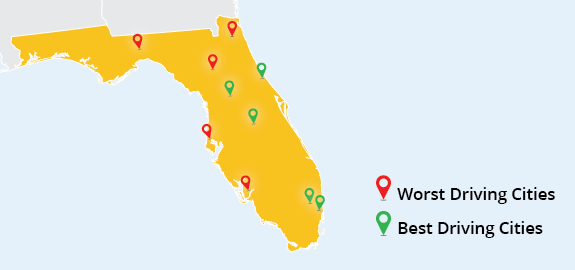 The headlines that come out of the Sunshine State might lead an outsider to believe that Florida is full of bad drivers: "'I'd rather go to jail than go back home': Florida man drives 100 mph down interstate while standing through sunroof," and "Drunk Florida Man Insists He Didn't Drink and Drive, Only Drank at Stop Signs," for example.
Florida Man's reputation as a questionable-at-best driver doesn't stoke much confidence in Florida's drivers. However, according to QuoteWizard data, these assumptions would be wrong.
Florida regularly ranks among the nation's best drivers in QuoteWizard's annual best and worst driver study—second-best two years in a row! Every state has their fair share of bad drivers, and Florida Man likely overstates the quality of drivers in the Sunshine State. That's why we set out to find the best of the best drivers in Florida and, well, the worst of the best.
To determine overall driver quality in Florida, we ranked the 50 largest cities in the state. We analyzed over 400,000 insurance quotes fromFloridadrivers using QuoteWizard.com and ranked cities by the highest rate of incidents. Incidents include accidents, speeding tickets, DUIs, and citations.
Worst Driving Cities in Florida
Rank (worst)City
1
2
Tallahassee
3
Clearwater
4
5
Gainesville
6
Plantation
7
8
Pine Hills
9
10
Deerfield Beach
11
Largo
12
Kendall
13
Coral Springs
14
Miramar
15
16
Boca Raton
17
Lehigh Acres
18
Homestead
19
20
Davie
21
Lakeland
22
Alafaya
23
24
Miami Gardens
25
Jacksonville
It should come as no surprise that the city with the highest "Florida man" population has the worst drivers. Understandably so, a number of large interstates do run through Jacksonville, Florida's largest city. I-10 and I-95 bring traffic up and down the east coast of Florida right through Jacksonville. Drivers passing through: Beware of the locals on the road. Duval County had 16.10 road fatalities per 100,000 in 2017, which is slightly over the state average of 14.83.
Tallahassee
Another city along the Florida–Georgia line that tops our list of bad drivers in the state. The I-10 corridor from Tallahassee to Jacksonville must be a hotspot for the worst of the Florida drivers. Tallahassee locals probably contribute their fair share of incidents; however, it could be the 32,000 students of Florida State that rack up the incidents in the city. Leon County does have a fairly low road fatality rate of 11.71 per 100,000 people.
Clearwater
Down into Central Florida is Clearwater, which rounds out the top three worst driving cities in the Sunshine State. There appears to be a pattern of bad driving behavior on the east side of Tampa Bay: Clearwater, Largo, and St. Petersburg, all East Bay cities, rank in the top 11 worst driving cities in Florida, while their West Bay counterparts, Tampa and Town 'n' Country, rank among the best. Pinellas County did have 12.16 road fatalities per 100,000 in 2017.
Best Driving Cities in Florida
Rank (best)City
1
Pembroke Pines
2
3
Miami Beach
4
The Villages
5
Poinciana
6
Lauderhill
7
Weston
8
9
Pompano Beach
10
Delray Beach
11
West Palm Beach
12
Spring Hill
13
Tamarac
14
15
Fort Lauderdale
16
Sunrise
17
18
19
Deltona
20
21
Brandon
22
Hollywood
23
Riverview
24
Town 'n' Country
25
Boynton Beach
Pembroke Pines
As you make your way to the southern parts of Florida, the quality of driving improves. Ranked 16th best city in Broward County by Broward Palm Beach New Times, Pembroke Pines takes the top spot as the best driving city in Florida, according to our data. Hang your hat on that one, folks of Pembroke Pines! Broward County as a whole was accountable for 11.62 road fatalities per 100,000 people in 2017.
Daytona Beach
Given that the words "Daytona" and "driving" are synonymous, one might fully expect Daytona to show up near the top. However, Daytona is also often associated with racing. Our data shows Daytona Beach as having a low rate of incidents, but the National Highway Traffic Safety Administration (NHTSA) fatality data could explain why Daytona is a racing city: there were 24.13 road fatalities per 100,000 people in Volusia County in 2017—a significant jump from previous years, and one of the highest fatality rates in the state. High speeds are typical of fatal crashes, and Volusia had 130 fatal crashes in 2017.
Miami Beach
The natural geography of Miami Beach is what likely keeps its rate of incidents so low. The longest road in town, Collins Avenue, likely leads drivers to slow down as they cruise along the beachfront. The frequent tourism also creates a slow-go in and out of town, keeping incidents down. Although Miami Beach is a small piece of Miami-Dade County, the county accounted for 10.36 road fatalities per 100,000 people in 2017.
Methodology
The QuoteWizard research team evaluated driver quality from the 50 largest cities in Florida by population. We analyzed 2018 data of over 400,000 insurance quotes from Florida drivers usingQuoteWizardto find the rate of overall incidents in each city. Incidents include accidents, speeding tickets, DUIs, and citations.