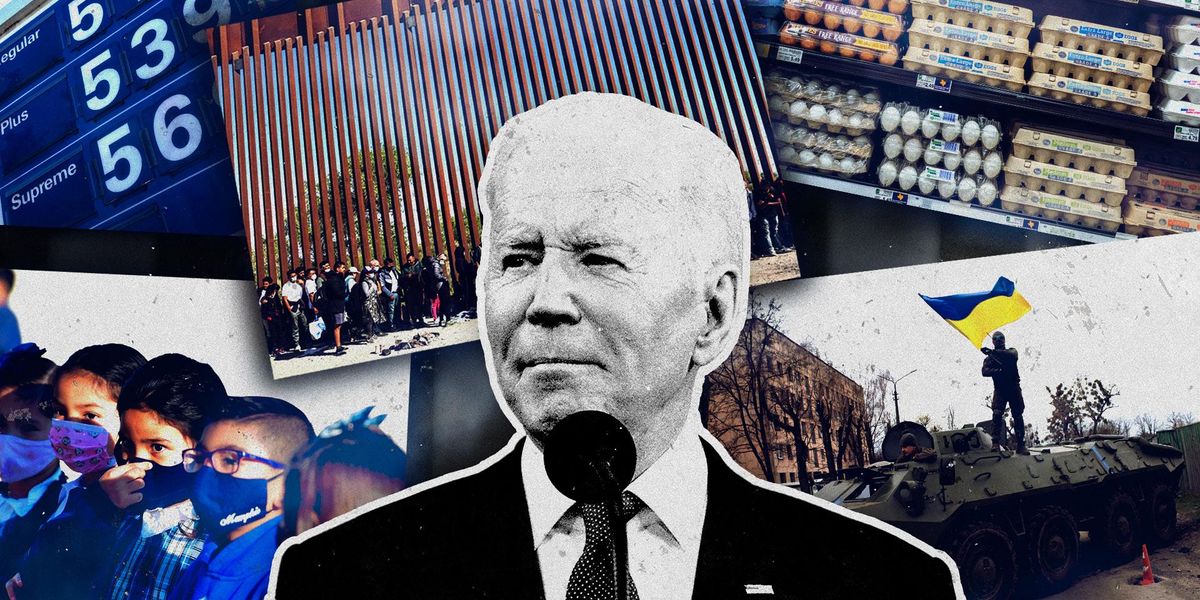 Many predict that Biden will make his case for re-election during his annual State of the Union address tonight. Would you want another term of Biden's policies? Most people, including Democrats, say they don't.
Here are 9 figures from Biden's performance thus far that show the REAL state of the union—you probably won't hear about these tonight.
Nobody thinks Biden's doing a good job—not even Democrats
Glenn discussed the recent polls showing that Biden doesn't have many on his team who want him back in office in 2024.
According to a joint Washington Post/ABC poll, 4 in 10 Americans say they've gotten worse financially since Biden became President, the most in ABC News/Washington Post polls dating back 37 years.
Biden's disapproval ratings aren't only driven by Republicans. Nearly 6 in 10 Democratic-aligned adults don't want Biden to be nominated as the Democratic nominee in the 2024 election.
Proxy war with Russia
The U.S. has given Ukraine an estimated $68 billion in total aid in 2022, to aid in their defensive front against Russia. Now, we are caving to Ukraine's demands for even more sophisticated weapons to take on a more offensive approach. We are no longer an aid partner—we are an active participant in a proxy war against Russia.
As Glenn recently discussed on his radio program, after the U.S. agreed to give tanks to Ukrainian troops, we are giving Russia more reason to retaliate against the U.S. for supplying weapons that are used offensively, rather than defensively, against Russian troops. If the U.S. caves to Ukraine's most recent demands for fighter jets, it will be hard to defend that the U.S. isn't engaging in the new offensive against Russia juxtaposed to Ukraine's initially defensive stance.
Is war with Russia in the U.S.'s best interests? An increasing number of Americans are saying: no. Moreover, many Americans view the increasing aid to Ukraine as a betrayal of the struggles they are facing at home, many of which were created and exacerbated during the Biden administration.
The ever-expanding federal deficit
Biden continues to attempt to take credit for narrowing the federal deficit. This is simply a lie.
Biden simply slightly reduced deficit spending from the exorbitant COVID-era emergency spending from 2020. In reality, his multi-trillion-dollar agenda contributed to the federal deficit.
The non-partisan Committee for a Responsible Federal Budget says Biden expanded the federal deficit "by $4.8 trillion through administrative actions and legislation." According to the Treasury Department, the government "spent $1.38 trillion more than it collected, resulting in a deficit" and that "this year's deficit contributed to a national debt of $31.42 trillion through December 2022."
The worst border crisis in U.S. history
The Biden administration continues to break its own records in illegal border crossings, contributing to the worst border crisis in U.S. history.
December 2022 alone saw a monthly historic record of 251,000 illegal border crossings, breakingMay 2022's record-setting number of 224,370. In total, the fiscal year 2022 witnessed a historic record of 2.4 million illegal border crossings. In comparison, Ellis Island's busiest year in 1907 saw 1,004,756 migrant arrivals, less than half of the rate seen in 2022.
Fentanyl
It comes as no surprise that Biden's border crisis has contributed to the opioid crisis that continues to take the lives of thousands of Americans. Last year, the DEA seized enough fentanyl to kill every American—more than 50 million fentanyl-laced pills and over 10,000 pounds of fentanyl powder.
More than 70,000 people died of overdoses from synthetic opioids like fentanyl alone in 2021, according to the CDC—a number representing two out of three of all fatal drug overdoses. That is more lives lost than the combined equivalent of U.S. military personnel killed during the wars in Vietnam, Iraq, and Afghanistan.
Inflation
Inflation soared from just 1.4 percent when Biden took office in January 2021 to a 40-year record high of 9.1 percent in June 2022. In comparison, before Biden's first year as President, the calendar-year inflation rate hadn't topped 4 percent since 1991. 2022 closed with a slightly cooled inflation rate of 6.5 percent , which remains higher than at any point since 1982.
Skyrocketing Food Prices
Arguably the hardest-hit item on Americans' budgets is the grocery bill. In 2022, food prices increased by 9.9 percent, with items such as eggs rising 60 percent in 2022. Food-at-home prices increased by 11.4 percent, while food-away-from-home prices increased by 7.7 percent.
Children's learning deficits
Biden actively fought state governments and school districts that banned mask and distance-learning mandates. However, it was these very mandates that are linked to the dramatic drop in children meeting basic learning milestones during the pandemic. According to Brown University's sweeping study that surveyed 5.4 million American schoolchildren aged 3 to 8 years old, math and reading scores dropped significantly in 2021 while the gap between higher and lower-income students widened.
Though these statistics pertain to Biden's pandemic-era policies in 2021, it's important to note that these policies had a significant, if not irreversible impact on millions of children across the U.S., an impact that didn't disappear when the mandates did.
Suicide
Glenn recently drew attention to this sobering statistic: suicide across the U.S. increased 30 percent nationwide in 2022 and 53 percent amongst African Americans. Though controlling the mental health of America isn't in Biden's job description, it is nonetheless indicative of the "state of the union."