How to Recreate Stevie Nicks' Iconic Late '80s Makeup (VIDEO)
Fleetwood Mac is ready to head back out on the road. The band is getting ready to depart on their new North American tour, and with a revamped band lineup with the trek being their first since Lindsey Buckingham's departure from the group. Stopping at major cities across the country this fall and early next year will be Mick Fleetwood, John McVie, Stevie Nicks and Christine McVie, along with Tom Petty and the Heartbreakers guitarist Mike Campbell and Crowded House's Neil Finn.
But before they make their way across the country on tour, which begins on October 3rd, Fleetwood Mac is kicking off their tour in Las Vegas during the 2018 iHeartRadio Music Festival, alongside a star-studded lineup of artists.
To prepare for Fleetwood Mac's upcoming performance in Vegas, iHeartRadio teamed up with makeup artists Ruthie Weems and Jonny Polizzi from the Center of Makeup Artistry & Design to recreate Stevie Nicks's iconic look from the late '80s during iHeartRadio's Face to Face segment. Get that red lipstick out ... now you can recreate Stevie's signature makeup at home.
Step 1: Start with some shimmery metallic eyeshadow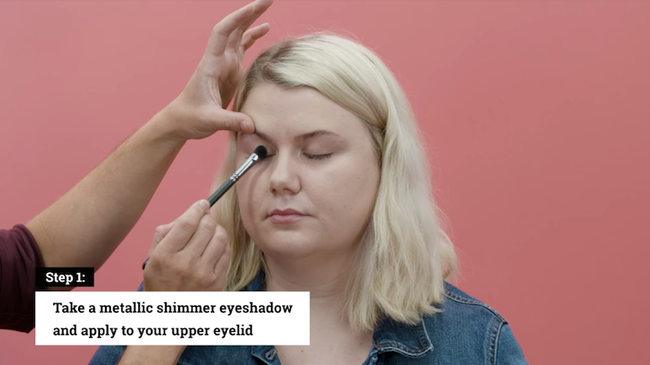 Step 2: Apply black eyeliner to the bottom waterline
Step 3: Apply the same black eyeliner to the top eyelid in the space between your skin and your eyelashes
Step 4: Take a brush and smudge that eyeliner!
Step 5: Use a dark brown powder to set the eyeliner
Step 6: Time for A LOT of mascara
Step 7: Add more mascara ... to the bottom lashes
Step 8: Add a mix of red and pink blush
Step 9: Use foundation to blend and reshape your cheeks
Step 10: Break out the red lipstick!
Step 11: Add a red lip gloss on top to give it some shine
And, voila! You're Stevie Nicks!